#079 – In this episode of Journey with Jake, we delve into the captivating journey of Dianna Hall, an avid traveler, podcast host, and adventurer who has spent the past five years exploring the world. Dianni's transition from a traditional life path to a nomadic lifestyle presents an awe-inspiring narrative of courage, resilience, and personal growth.
Dianni's story starts with a solo voyage to India, an experience that ignited her love for travel. Her bold decision to backpack across Southeast Asia and immerse herself in its diverse cultures is a testament to her daring spirit. Dianni's experiences ranged from volunteering with animals in Thailand to teaching English in Spain, providing her with an enriching tapestry of experiences that contributed to her self-discovery.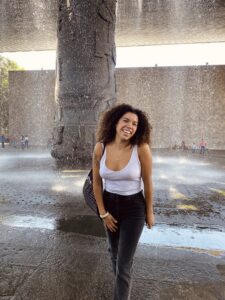 An essential aspect of Dianni's journey is the exploration of her Hispanic roots and upbringing. She describes how her cultural background shaped her worldview and fostered her love for languages and cross-cultural interactions. The role her family played in her journey is significant, from their initial concerns about her safety to their eventual support of her nomadic lifestyle.
The theme of embracing the unknown is a central aspect of Dianni's story. Her ability to transform fear into fuel and leap into the unknown is truly inspiring. It was this fearless attitude that led her to memorable experiences like participating in an ayahuasca ceremony in Southeast Asia and braving a 19-hour train ride.
Financial stability is a critical challenge for any freelancer or digital nomad. Dianni shares candid insights into her struggle to find financial stability while pursuing her passion for travel. Her foray into podcasting and freelancing is a testament to her adaptability and resilience.
Dianni's story is more than just a tale of travel and adventure. It's a journey of self-discovery and personal transformation. Her experiences, from navigating different cultures to overcoming financial challenges, serve as valuable life lessons. They inspire us to venture beyond our comfort zones, explore the world, and most importantly, discover ourselves.
This episode serves as a beacon for those yearning to break free from traditional life paths and embark on their own journeys of self-discovery. Whether it's the allure of solo travel, the thrill of immersing oneself in foreign cultures, or the joy of finding meaningful work, Dianni's story resonates with us all.
In a world where travel is often seen as a luxury or a temporary escape, Dianni's journey shows us that it can be much more. It can be a path to personal growth, a means of connecting with diverse cultures, and a platform for self-expression and discovery. So, buckle up and get ready for an exhilarating ride through Dianni's adventurous life.
Be sure and give Dianni a follow @whileshesawaypod on Instagram!