#078 – In this inspiring episode of "Journey with Jake," we delve into the fascinating world of competitive cheerleading through the lens of Elsa Hassett's incredible journey. Elsa is a six-time NCA college champion in cheerleading and a three-time NCA partner stunt champion.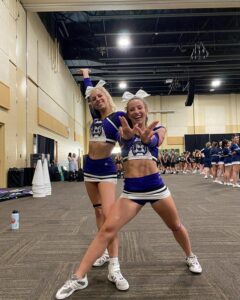 Elsa's journey began with a passion for gymnastics in high school. However, an unfortunate injury forced her to quit gymnastics, pushing her towards cheerleading. This setback, although disheartening at first, turned out to be a pivotal point in Elsa's life, leading her to discover her love for cheerleading.
Elsa's cheerleading journey was far from easy. She faced significant challenges, including the disappointment of not making the University of Utah cheerleading team and the difficulties of acclimating to cheers and sideline dances. However, her determination and the support system she found at Weber State University played a pivotal role in her journey towards becoming a champion.
The episode takes an insightful look into Elsa's experiences at the Daytona Nationals, revealing the raw emotions and high-stakes competition that comes with competing at such a grand event. Her experiences highlight the intense preparation, teamwork, and dedication required to compete at this level.
Elsa also discusses the critical role her support system, including her mother and her coach, played in her journey. Their unwavering belief in her abilities and constant encouragement helped her to overcome her setbacks and continue striving for excellence.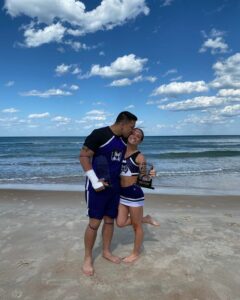 Moreover, the episode sheds light on Elsa's plans for the future, her dream of working for Varsity, and her current job as a marketing manager. Elsa shares how cheerleading has not only shaped her career but also influenced her personal growth and character.
Throughout the episode, Elsa emphasizes the importance of perseverance, determination, and the willingness to face challenges head-on. Her story serves as a powerful reminder of the importance of maintaining an unyielding spirit in the face of adversity.
Overall, Elsa Hassett's cheerleading journey is a testament to her unwavering spirit, resilience, and sheer grit. Her story is a beacon of inspiration for all those who are striving to overcome their own setbacks and challenges. It reiterates the importance of perseverance, the power of a strong support system, and the incredible rewards that come with relentlessly chasing your dreams.
So, if you're looking for a dose of inspiration or interested in the thrilling world of competitive cheerleading, this episode is a must-listen. Tune in to "Journey with Jake" and let Elsa's remarkable journey inspire you to boldly face challenges and relentlessly chase your dreams.