#076 – Allison Burkhard, a native Floridian and environmental law attorney, embarked on a transformative journey when she decided to take a gap year to explore the world's oceans and marine life. The motivation for this extraordinary leap was a profound love for nature and a desire to capture its beauty through underwater photography. Allison's journey is not just about venturing into the deep blue, but it's also a story of resilience, adventure, and a profound love for nature.
Allison's fascination with the ocean began at an early age, nurtured by her father's insistence on spending time in nature. Growing up in Florida, she was exposed to a rich array of marine life and became enamored with the underwater world. Despite her successful career as an environmental law attorney, Allison felt a pull towards the ocean. Her decision to take a year off and explore her passion for underwater photography led her to some of the most incredible marine environments on the planet.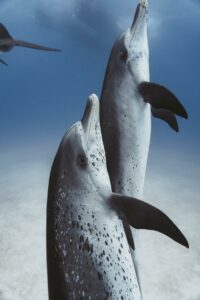 One of the most thrilling parts of Allison's journey was her solo expedition to Norway's Arctic Circle. Here, she experienced the exhilaration of swimming with orcas and humpback whales, braving the frigid waters in a wetsuit. Despite facing the challenge of falling ill in a foreign land, Allison's resilience saw her through, and the sight of the stunning Aurora Borealis served as a beautiful reminder of the power of nature.
However, Allison's adventures were not limited to the Arctic. She also journeyed to the vibrant reefs of the Caribbean, where she had the humbling experience of swimming with majestic sperm whales. This encounter deepened her connection with marine life and reinforced the importance of preserving these creatures and their habitats. Her underwater photography, which began with childhood experiments with disposable cameras, evolved into a powerful tool for showcasing the beauty of marine life and advocating for its protection.
Off the coast of Bimini in the Bahamas, Allison had the extraordinary opportunity to interact with a super pod of Atlantic spotted dolphins. She formed relationships with these playful creatures, witnessed their extraordinary feeding behaviors, and got to know individual dolphins. These experiences further underscored the breathtaking diversity of marine life and inspired Allison to plan her own expeditions in the future.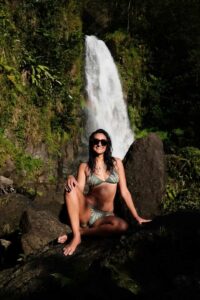 As Allison returns to her legal career, she carries with her a renewed sense of purpose and a commitment to protecting the marine environments she has come to love. Her future plans include leading her own expeditions and using her photography to spread her message of protection and love for marine species. Allison's journey serves as a reminder that it's never too late to pursue your passion and make a difference in the world.
Whether it's swimming with whales in the Arctic or photographing dolphins in the Caribbean, Allison's experiences highlight the importance of preserving our oceans and their inhabitants. As she continues her work in environmental law and plans her future expeditions, one thing is certain: Allison Burkhard's love for the ocean and its creatures is as deep as the waters she explores.