#070 – Imagine soaring over Rocky Mountain National Park, the vast expanse of rugged wilderness stretching below, the adrenaline rush, the freedom. This is just another day in the life of Dan Bentley, a seasoned helicopter pilot. But Dan's passion for flight doesn't end with helicopters. He is also an aspiring master falconer, nurturing a deep love for these majestic birds of prey.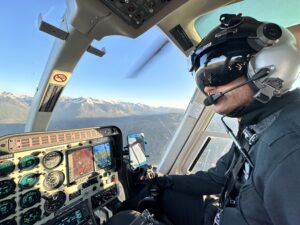 Becoming a helicopter pilot wasn't a straight path for Dan. It was a journey fraught with challenges, including the need for glasses, a hurdle that could have easily derailed his flying dreams. But with resilience and determination, Dan navigated these obstacles, driven by his love for the skies and his deep-rooted fascination for biogeography. As he piloted his way over diverse terrains, he honed his skills, gaining valuable insights into the intricacies of prevailing winds and mastering the art of handling turbulence.
His adventures as a helicopter pilot are nothing short of thrilling. Dan shares captivating stories about conducting search and rescue operations in the mountains, an aspect of his job that combines his professional skills with his love for adventure. Flying a four-million-dollar helicopter through the majestic Rocky Mountains, he is living his dream. Yet, it is not without its trials. Weather changes, helicopter capacity, and the constant need for vigilance make each flight a test of his skill and nerve.
But it's not just the helicopter that fascinates Dan. His childhood fascination with raptors led him to another intriguing realm – falconry. Dan's interest in this ancient tradition deepened under the mentorship of his professor Clayton White, an authority on golden eagles. It was through this guidance that Dan was able to assist in the annual golden eagle research report for the state of Utah, adding another feather to his cap.
His journey into falconry, much like his path to becoming a helicopter pilot, has been a rewarding challenge. Falconry, with its rich traditions and regulations, requires patience, knowledge, and a deep respect for the natural world. From building the necessary equipment to using wild meat as bait, each step in becoming a falconer is steeped in tradition.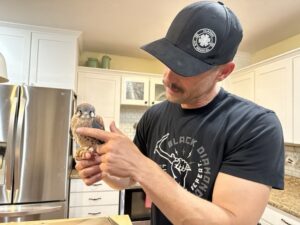 Dan's ultimate goal is to achieve the esteemed title of a master falconer. His experiences with tending to a Peregrine Falcon, one of the most awe-inspiring species in the world of falconry, have only furthered his passion. Despite the demanding nature of falconry, Dan has successfully shared this love for hawking with his three daughters, ensuring that this ancient tradition continues in his family.
In sharing his journey, Dan Bentley gives us a rare insight into two worlds that many of us may never experience – the adrenaline-pumping life of a helicopter pilot and the rewarding challenge of being a falconer. His tale is not just about mastering the skies or tending to falcons. It's a testament to resilience, a reminder that with determination and passion, we can soar to new heights in our pursuits.