If you are an adventure enthusiast, particularly one who revels in the rugged beauty of hiking trails, our latest podcast episode is a must-listen. Our guest, Josh Baker, takes us on an incredible journey along the 93-mile loop around Mount Rainier, better known as the Wonderland Trail. This podcast is not just a narration of a hiking adventure; it is a testament to the indomitable human spirit and the gritty resolve it takes to conquer such a demanding trail.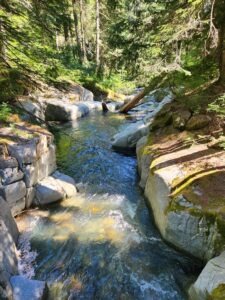 In this episode, Josh vividly depicts the diverse terrain of the trail, which stretches from the lushness of rainforests to the stark beauty of alpine and sub-alpine areas. As he walks us through his journey, you will almost feel the ground beneath your feet change from the soft forest floor to the rocky alpine paths.
But the journey wasn't all about appreciating nature's beauty. Josh also highlights the challenges he faced. A persisting knee injury threatened to disrupt his adventure, making the steep descents particularly perilous. However, his unwavering determination and the invaluable support from his friend, Austin, saw him through. Josh's recounting of his trials and tribulations underscores the physical toughness and mental resilience necessary to endure such a trek.
The episode takes an intriguing turn when Josh delves into his encounters with the raw wilderness. From following bear scat up a mountain in a 'side quest' to dealing with unexpected rain in an ill-equipped tent, his stories underscore the unpredictable and often brutal reality of the great outdoors. Yet, it is these moments of adversity that reveal a hiker's true grit.
Towards the end of the episode, Josh reflects on completing the adventurous trail. He recounts his encounter with a bear in the high mountain meadow of Indian Henry's and the relief of reaching the car after the final downhill stretch. These stories offer a poignant reminder that it's not just about reaching the destination, but also about embracing the journey, however arduous it may be.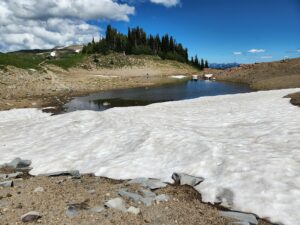 The podcast concludes on an introspective note, with Josh sharing his three 'whys' for hiking. This insight into his motivation and love for the outdoors can inspire listeners to identify their own 'whys' and perhaps reignite their passion for adventurous pursuits.
This podcast episode is more than just a tale of an expedition; it's an inspiring account of resilience, camaraderie, and personal growth amidst the backdrop of the breathtaking Wonderland Trail. It's a testament to the beauty of the wilderness and the raw, real side of hiking, making it a must-listen for anyone with a thirst for adventure.