#033 – Tim Hurst has ran a marathon in all 50 states!  That alone is a HUGE accomplishment.  He has done all this with an amputated leg using a prosthetic running blade!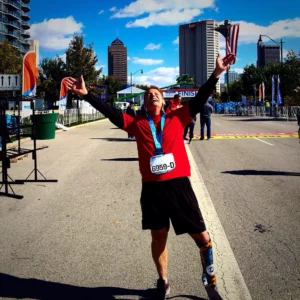 What an inspiration Tim Hurst is.  I had the chance to visit with Tim to not only talk about his experiences running marathons, but also the challenge of doing this as an amputee.  Tim opens up about his experience overcoming a motorcycle accident that left him hospitalized for a year and learning how to walk and run again with a prosthetic leg.
We also dive into his memories and love for traveling and how each state offers something unique.  From the forests of Oregon to the oil fields of Texas this episode has it all.  Not too mention a marathon run around Disney World in Florida.
For more information about Tim be sure and look up his blog at www.runningonmylastleg.com .  There is plenty of great information and photos from Tim's adventures.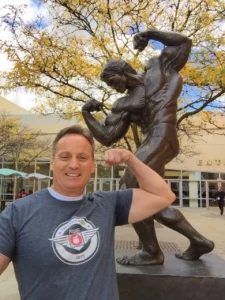 I want to hear from you!!  Please send me a note to say hi and let me know what your favorite episode is.  I love referrals as well so if you know anybody with some great stories let them know I want to talk to them.  Send me a DM on Instagram @journeywithjakepodcast or send me an email jake@journeywithjake.net.
Remember, it is not always about the destination as it is about the journey!